We have kicked off our Fall Fundraiser! You can purchase tickets for a chance to win cash prizes throughout the month of October. In order to start construction on the Morning Star Achievement Center, we need to raise $100,000 by November 1, 2021. Our goal for this fundraiser is for each family to SELL 30 or more tickets. If we achieve that goal we will be about $26,000 closer to our goal of $100,000 by November 1st! Incentive prizes are being offered for different categories including
Students with 30 tickets sold
100% Class Goal
100% Class Participation
Highest Weekly Percentage
Overall Highest Percentage
Overall Highest Student Sales
Overall School Goal! (this is the big one!)
Each ticket is worth a donation of $10. Tickets can be purchased online through https://msfundingourfuture.fundraiser.school/ or in the office. Each ticket is entered for a chance to win $100 each Monday- Thursday*, $200 each Friday*, and a Grand Prize Final Drawing of $1,000 on October 29, 2021. The winning tickets are RE-ENTERED DAILY! Each ticket can provide up to 20 chances to win.
Please share the link on Social Media, like and share the post from Morning Star School- Pinellas Park Facebook page!
Each ticket sale gets us one step closer to our goal! Good Luck!
---
CREATING OUR FUTURE AT MORNING STAR CATHOLIC SCHOOL
Welcome to the beginning of our capital campaign! We want to invite you to prayerfully consider helping us in anyway possible, through a giving of your time, talents, or treasures!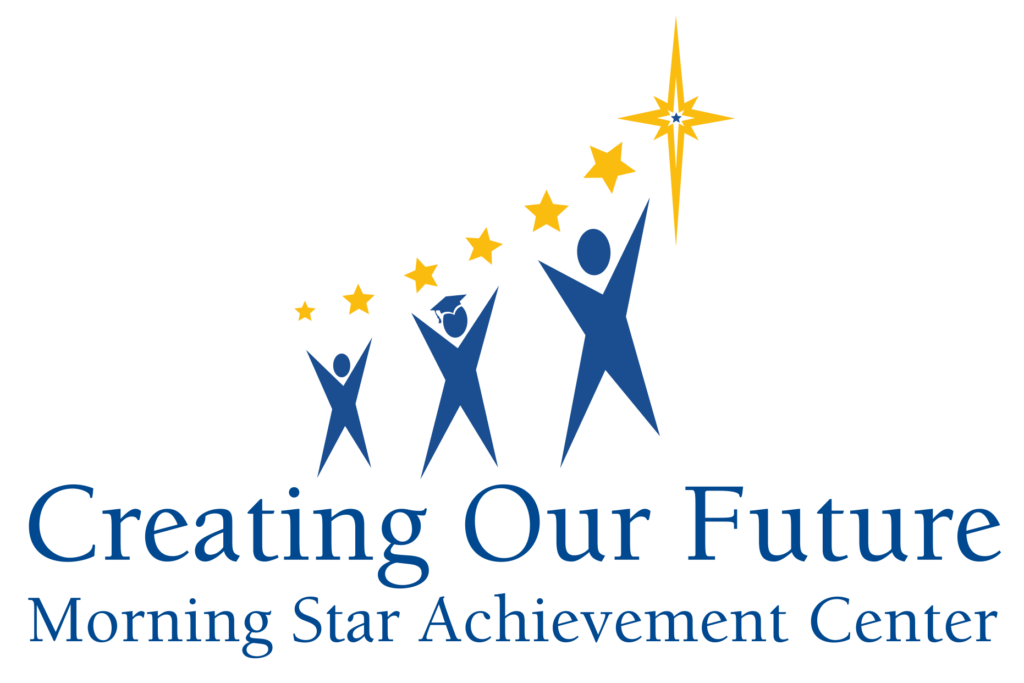 The Creating our Future Capital Campaign for Morning Star School is transforming MSS by investing $3,000,000 to expand and improve our campus facilities by providing needed space for the Transition Program and increasing high school enrollment; strengthening campus security; renovating space for life skills classrooms; and improving traffic flow and parking.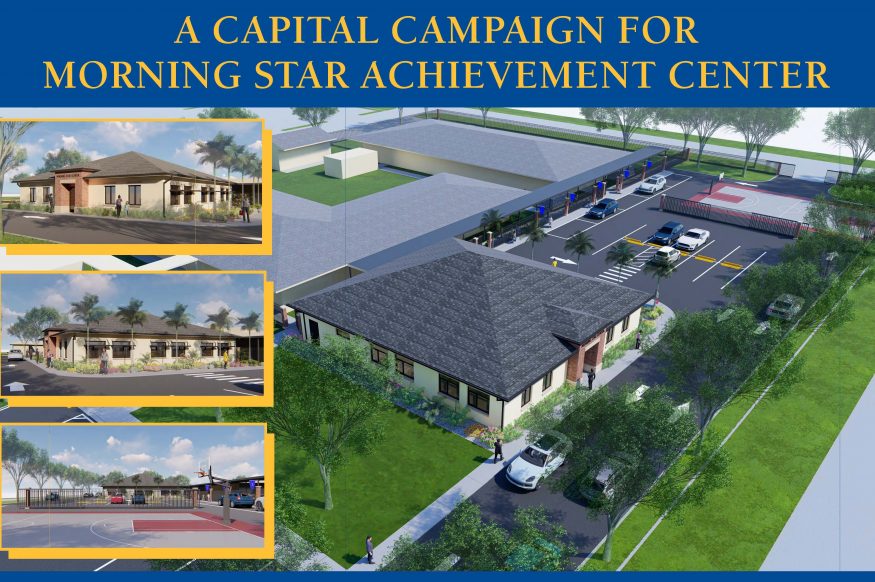 Our vision focuses on creating the spaces and providing the resources necessary to meet the critical need and growing demand for a Transition Program providing educational options for our high school graduates. The entire project will strengthen our school for all our students, kindergarten through age 22.
This is an exciting and pivotal time in Morning Star School's history. Your support of the capital campaign is critical as we create a school that will meet the needs of our students—grade school, high school and young adult—with identified learning challenges.
The expansion will be completed in two phases: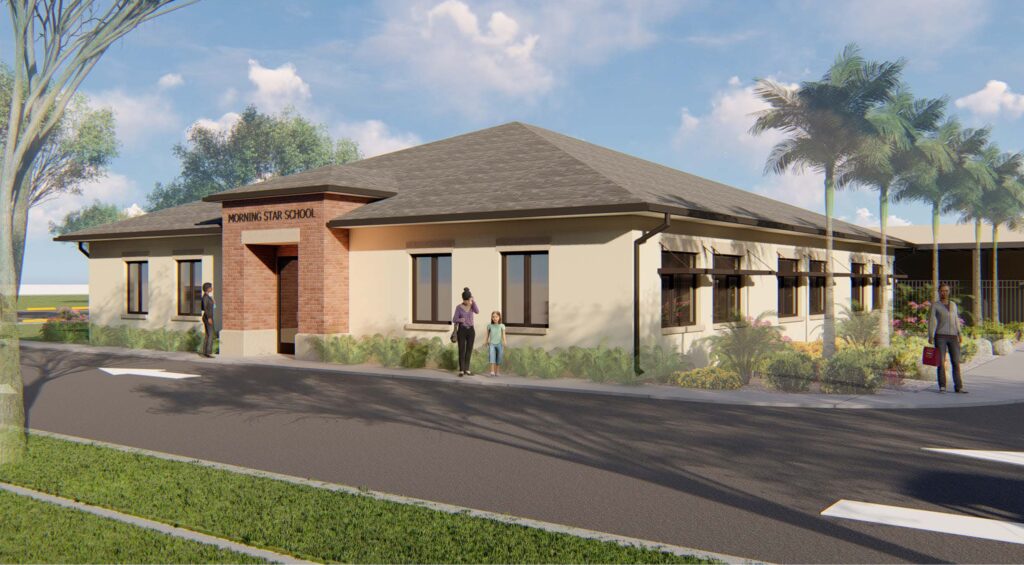 Phase 1
Construct a new 3,500 square foot Morning Star Achievement Center to house the Transition Program and the high school classrooms.
Supply furniture and equipment for new building.
Remodel the existing portables that were the high school classrooms into life skills classrooms including a living room, bedroom, dining room and job training area.
Expand and reconfigure the school entrance and driveway to allow for a safer and more efficient drop-off and dismissal process.
Create a courtyard suitable for sports and social development.
Improve the perimeter fencing to include sliding gates that will be locked during the school day to provide single area access for a more secured campus.
Expand parking to include a centrally located parking area for visitors.
Phase 2
Create a Welcome Center by expanding and connecting main office area to existing classroom building providing a more visible and secure access to campus.
Home to administrative offices and conference areas.
This is a very exciting time at Morning Star Catholic School, and we need your support. With your assistance we can create a school that will meet the needs of students with learning challenges, up to the age of 22. We invite you to visit our school, to become involved and to embrace this initiative with your gift today.
Working together with your support, we will succeed in Creating Our Future!
WAYS TO GIVE
Your commitment may be fufilled as a single gift or with several payments as defined by you over a period of up to four years. Click to see a current list of donors.
BY MAIL: Mail check payable to Morning Star School to Morning Star School, 4661 80th Ave N, Pinellas Park, FL 33781
Click to download commitment form.
BY PHONE: (727) 544-6036
NAMING OPPORTUNITIES
Leave a legacy by honoring your family, yourself or a loved one with a commitment to name a space, classroom or specified area. Click here to see a list of available naming opportunities, contact Morning Star School principal, Sue Conza, sue.conza@morningstarschool.org or (727) 544-6036.